Este post también está disponible en:
Español
The correct stuffing of the various elements of your amigurumi (arms, legs, body, etc.) is more important than you think, because the filling brings the crocheted piece first into shape.
Synthetic polyfill, which is usually made of 100% polyester, is usually the most reliable stuffing material. Inexpensive, soft and does not clump after washing, so that your finished plush toys keep the same shape for a long time.
Feel and Stuff
Usually, amigurumi patterns mention when it is best to stuff the respective part, if this is not the case then start with the first filling 2 or 3 rounds before closing the crochet piece (if it is closed at one point).
Stuff the piece well at this point, but do not just use a large piece that forms a large lump, but tear the filling material and gradually fill the body with smaller pieces.
This gives you an already better distribution of the filling material and ultimately a more even distribution of the filling.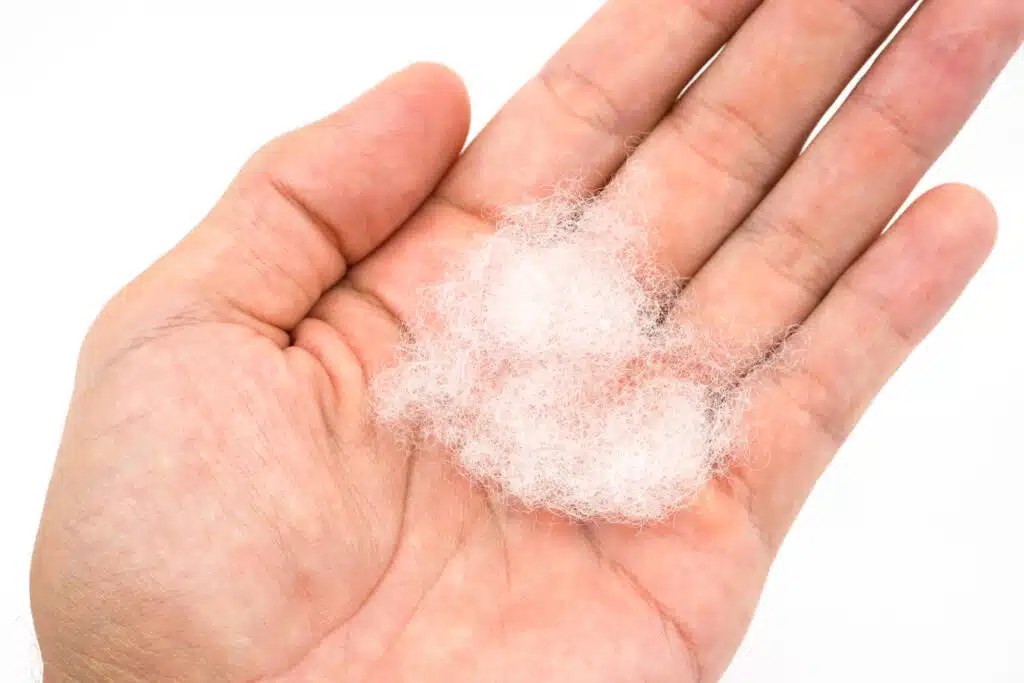 After the body is tightly stuffed with polyfill, feel where there are less stuffed areas. Use scissors, a pen, or something similar to stuff those specific areas.
An evenly bulging body produces the best result in the end, so that your amigurumi look evenly and have no dents in less stuffed areas.
Now crochet to the last round and stuff the last area also tightly before you close the opening.
When not to Stuff too Firm
As a rule, you want to fill your amigurumi firm, especially if you want it to look round and cuddly, but there are also situations where less filling or none at all make sense.
So it makes sense, for example, for amigurumi who have a sitting position not to fill them too full, as the body they are sitting on bulges if the stuffing is too much and therefore no longer sit properly.
In this case, a less firm filling lets the body press flat on the underside so that the amigurumi can hold the sitting position.
With small, complex, or thin elements, often no stuffing materials is the better choice, as this can deform these elements in such a way that the actually intended shape is changed by the stuffing material.
If you are stuffing very small crochet pieces, then only use small pieces of polyfill according to the crochet piece instead of a large piece.
It is therefore best to always follow the instructions in the patterns regarding the filling and whether you have to fill certain elements at all, a firm stuffing is often the standard, but sometimes less is more.
Alternative Materials
Of course, there are also other filling materials than synthetic polyfill that achieve different results.
You can also fill your amigurumi with dry rice, for a much heavier amigurumi that can still be deformed.
You can use scraps of thread or natural cotton with which you can fill your amigurumi very tightly, for a significantly stiffer end result than with the soft synthetic wool.
Experiment with different fillings to find your own favorites for your project.