Este post también está disponible en:
Español
Français
The Book Bunny, favourite dish carrot gratin and the former fastest scamper in the forest. He recently settled down or rather laid himself flat, took a carrot with him and is now helping bookworms to remember the last page they read. Even if it is a flat job, the book rabbit does the service gladly.
The crochet bunny bookmark has everything a real bunny needs, a fluffy tail, big spoony ears, rabbit teeth and the mandatory carrot.
Crochet Pattern Content
The crochet pattern comes as a printable PDF and is available in English (US terminology), German and Spanish.
The pattern is written in detail and extensively illustrated.
Available as an Instant download after purchase.
The finished bookmark has a length of approximately 34 cm.
Buy the PDF Pattern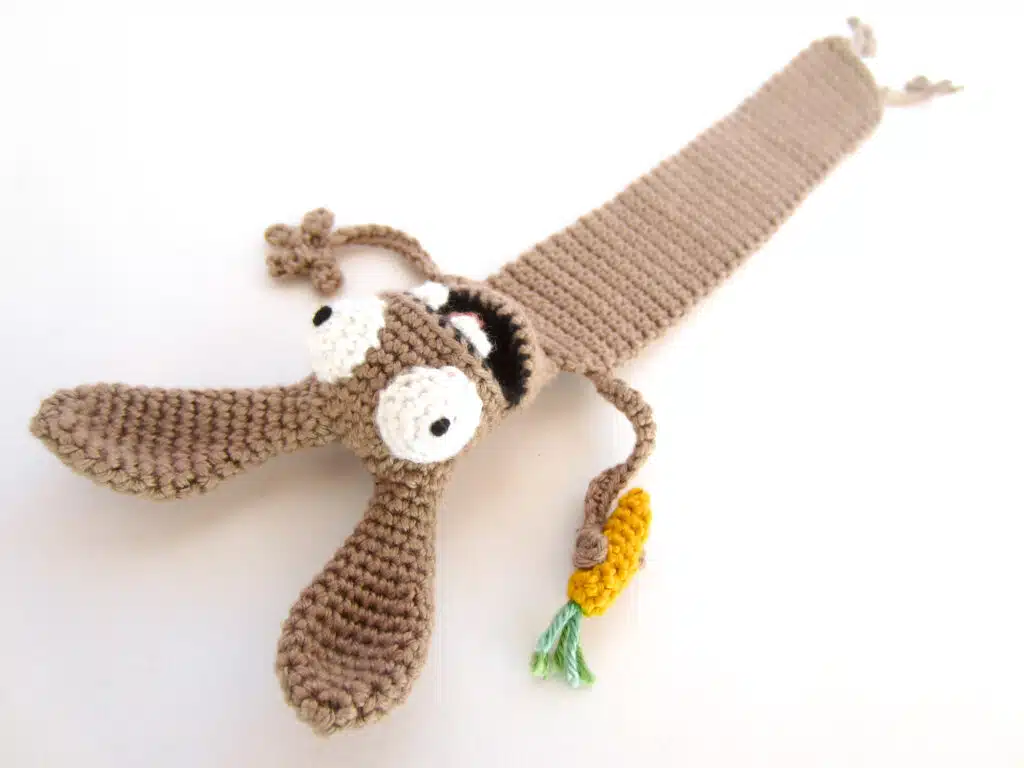 Buy the PDF Pattern
Bunny Bookmark Crochet Pattern
ATTENTION: The pattern, in whole or in parts, may not be published, resold, translated, changed or exchanged in any way whatsoever!
Needed Techniques
Needed Materials and Tools
To order the materials click on the respective link (affiliate link).
Colors: black, white, brown, red, orange, green
This pattern was crocheted using the "Schachenmayr Catania" yarn (100% Cotton, Meterage: 125 m, Yarn Ball Weight: 50 g, Yarn Weight: Sport – 5ply / Fine (2)) in the following colors:
Black (Schwarz (110)), White (Weiß (106)), Taupe (Taupe (254)), Marsala Red (Marsalarot (396)), Gold (Gold (249)), Apple (Apfel (205))
Buy the PDF Pattern