Este post también está disponible en:
Español
Valentin Vampir has had to contend with prejudice against vampires ever since the publication of Bram Stoker's Dracula in 1897.
Of course, Valentin lives on blood like all other vampires, but he learned early on that sucking blood from humans is less pleasing to the victim's family and friends and the whole situation usually ends up with him having a good meal but eventually having to move.
That's why Valentin has been living from voluntary blood donations for quite some time now and wants to give something back to society by serving as a voluntary bookmark for all night owls and bookworms.
Crochet Pattern Content
The crochet pattern comes as a printable PDF and is available in English (US terminology) and German.
The pattern is written in detail and extensively illustrated.
Available as an Instant Download after purchase.
The finished bookmark has a length of approximately 31 cm.
Buy the PDF Pattern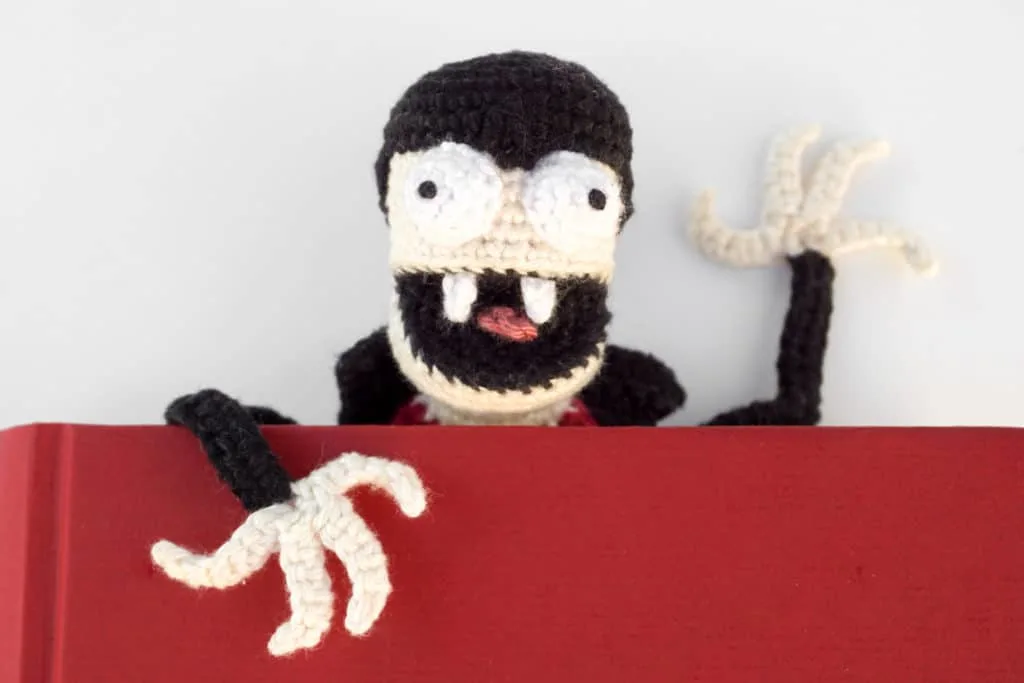 Buy the PDF Pattern
Vampire Bookmark Crochet Pattern
ATTENTION: The pattern, in whole or in parts, may not be published, resold, translated, changed or exchanged in any way whatsoever!
Needed Techniques
Needed Materials and Tools
To order the materials click on the respective link (affiliate link).
Colors: black, white, beige, red, dark red
This pattern was crocheted using the "Schachenmayr Catania" yarn (100% Cotton, Meterage: 125 m, Yarn Ball Weight: 50 g, Yarn Weight: Sport – 5ply / Fine (2)) in the following colors:
Black (Schwarz (110)), White (Weiß (106)), Nature (Natur (105)), Marsala Red (Marsalarot (396)), Wine Red (Weinrot (192))
Buy the PDF Pattern